저희 상진화학은 1982년 창사이래 줄곧 최고의 품질과 기술력으로 고객 여러분께 최상의 제품을 제공하기 위해 노력해왔습니다.
저희가 생산하고 있는 가스켓, 패킹, 실리콘 튜브 및 실리콘 패킹 제품들은 이미 전 산업 분야에 걸쳐 널리 사용되어지고 있으며, 또한 지속적인 기술개발과 원가절감의 노력에 매진하여, 보다 우수한 품질과 합리적인 가격으로 고객 여러분들께 보답하고자 노력할것을 약속드립니다.
감사합니다.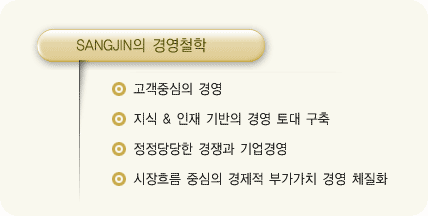 We are manufacturer and wholesaler of rubber products, especially are Silicone Tube, Hose, O-RING, Oil-Seal, Gaskets, Rubber Packing, Diaphram with EPDM, NBR, Silicone,CR and other kind of material what you want.
We also have lots of engineers and employees who have wide experience. we always promise one-stop service from mold base to producing to our customer. I hope our products are helpful to you and I wanna make a strong partnership for our success. If your company has the interest to our product, please relates with us as soon as possible. And we will send the detailed information and sample quickly to you. And I guarantee that the quality of our products is satisfactory and the price is workable. Hoped your reply and Inquires.
Thank you and best regard.